7 October 2020 - While there are many types of outdoor design styles, this time we'd like to introduce the widely admired Japanese Muji style for the coming year. It looks nice, isn't overly complicated, and it's indeed quite popular. This chic and simple style of home decoration is based mainly on light or earth-tone colors, which give a clean and tidy impression, and offer a comfortable, laid-back feeling for the owner. If you also like this style of decoration, please look at these examples.
Take the following two-bedroom, one-living unit of about 580 sq. ft as an example. The room partition itself is square and functional, and the original decoration retained a slightly traditional look. The new homeowner decided to change it to the popular simple Muji style, so he chose light colors and wood tones to create a warm feeling.
Unit information:
Decoration cost: about HK$370,000
Saleable area: 580 sq. ft.
Layout: 2 bedrooms, 1 living room, 1 kitchen and 1 toilet
Estate: Castle City, Sha Tin District
1. Light coloring for the main tone
80% of the walls in the unit are finished in white paint, except some light grey, which is used on the wall behind the TV, to create a kind of - "theme wall" effect. The bright white main tone is used to enhance the overall sense of space, and makes the interior brighter under sunlight. White and grey paint harmonize together; this is also common in Nordic-style decoration design.
2. Wood elements
Using wooden flooring and wood furniture creates a simple, natural, warm and sunny feeling. If you replace the original solid wood flooring with a seamless floor, it makes the overall feel softer and improves moisture-proofing capabilities. In addition, since seamless flooring is cheaper and has better wear and scratch resistance than solid wood flooring, it has prompted many Hong Kong families to choose seamless floor styles in recent years.
Moreover, because the floor is made of light-colored wood, different furniture wood tones have been selected to create a special layering effect. This is evident in the walnut-colored dining table, oak-colored storage cabinets, and other combined furniture pieces.
3. Open space
The owner changed the original closed kitchen space into an open one, which doubled the hallway area and added more of a modern lifestyle vibe. At the same time, a C-shaped shoe cabinet and bar counter were added to the original wall, which creates a beautiful, stylish touch, and also increases the overall cooking area and storage space.
4. Imitation marble tiles
Marble tiles are rich in texture and lustre and they often provide that touch of luxury. At the same time, there are many marble tile styles to choose from and they're easy to match. It is perhaps one of the most commonly used decoration surfaces in many families' homes. But be careful, using too much or choosing a marble surface that is too bright will result in an outdated, old-fashioned look.
That's why, for this decoration example, the focus is solely on the wall of the open kitchen where hexagonal imitation marble tiling was specially selected and added. Its tone and texture are not much different from those of natural marble. The hexagonal matte surface gives it both a trendy and distinctive look. However, when laying hexagonal tiles there are certain handicraft application requirements involved, which must be given careful attention to!
5. Custom-made furniture
The owner specially ordered a set of furniture pieces for the master bedroom, including a hydraulic double bed, wardrobe, dressing table and bedside table. The use of custom-made furniture not only makes optimal use of the space, but also adapts well to an owner's particular preferences when choosing different styles, which he or she can then place according to their own individual lifestyle habits.
In addition to the above example, we also specifically searched for a few simple, non-print decoration units for your reference:
Skyline Mansion - Conduit Road (Mid-levels West)
Property id: 13130
Conduit Tower (Mid-levels West)
Property id: 26542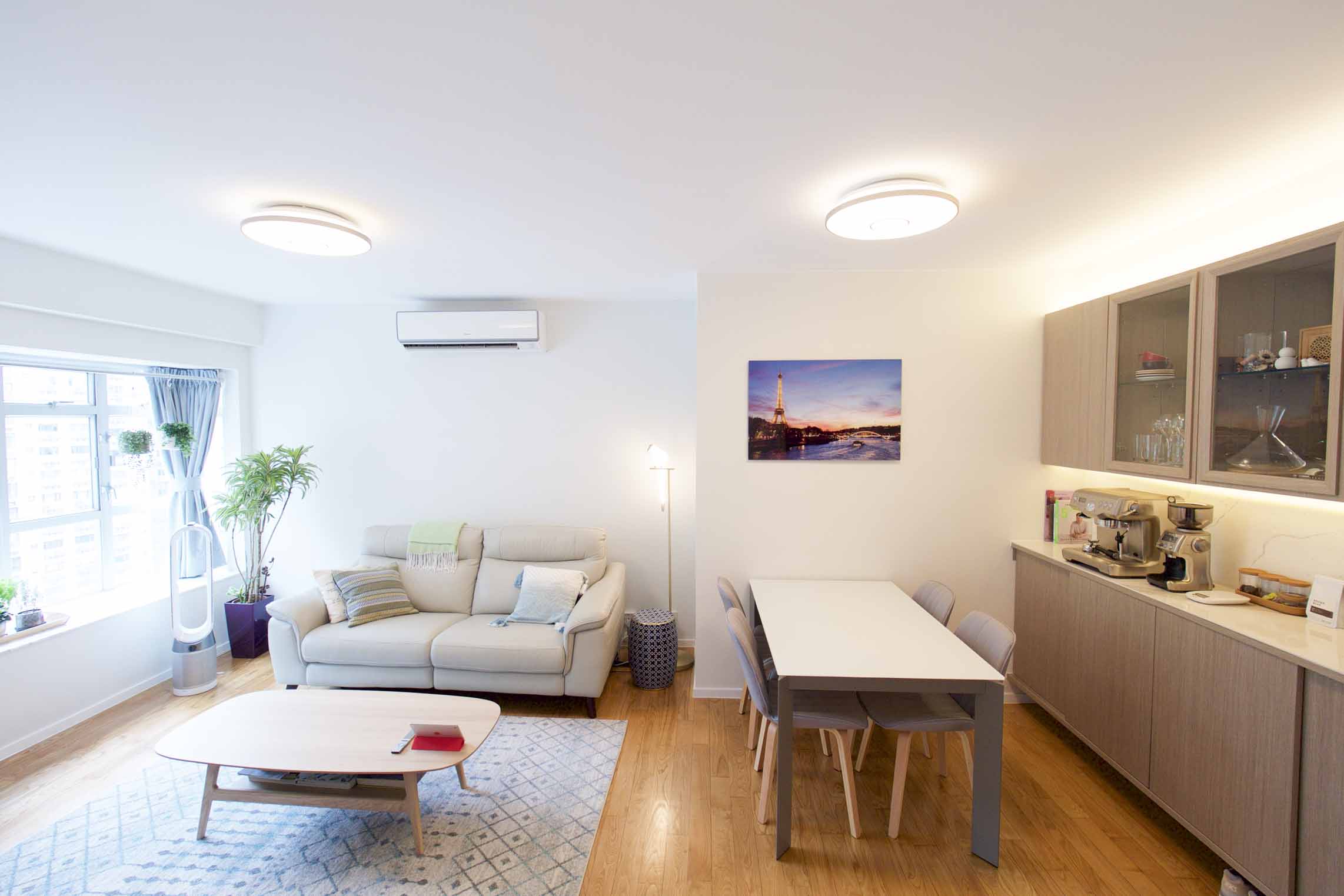 125A Second Street (Sai Ying Pun)
Property id: 383503
*Codeco is a one-stop decoration service platform that uses technology and professional teams to match reliable decoration experts with designers, making long and daunting projects easier to master and manage.