In recent years, Hong Kong's art scene has been firmly establishing its place on the global stage.  For aspiring art lovers and collectors, this translates into a packed schedule of annual festivals, exhibitions and gallery events with pieces that delight, shock and stimulate the mind – sometimes simultaneously! This article aims to help you get started with a list of places to satiate your appetite for all things "artworthy". 
As a starting point, The Hong Kong Museum of Art features regular exhibits of historical and modern masterpieces curated around particular themes that delve into different cultures and provide an excellent taster of Hong Kong art. As with other museums in Hong Kong, admission is free to the public on Wednesdays. But note that the museum is now closed temporarily for a complete renovation and is expected to reopen in 2019. 
To get a wider view on the different options available across Hong Kong, it is of course necessary to venture outside of more traditional settings to gather a stronger understanding of what appeals most to your palate. Finding unique pieces with that certain je ne sais quoi is not always easy but there are a large number of galleries on hand, presenting everything from Ai Weiwei's politically charged clandestine pieces to softer Monet inspired works. 
Galleries host regular cocktails where you can meet the artists and art curators in their element. When the centerpiece of modern art often involves the manifestation of the intrinsically subjective and abstract into something corporeal, having the artist explain the work to you can be vital in appreciating the piece. Step into the galleries along Hollywood Road (and down towards Sheung Wan and Sai Ying Pun) and talk to the gallery representatives if you like what you see. If you ask politely, they may just be able to help add you to their mailing lists. 
You'll quickly find that although Hong Kong is traditionally seen as a global financial hub, there is a thriving creative scene intertwined within this, proving not all that glitters is gold. By no means an extensive list, the following suggestions aim to get you started on the path to becoming a Hong Kong art connoisseur!  
Mid-Levels/Central: 
A congregation of prestigious, internationally known art galleries can be found dotted around Mid-Levels and Central, predominantly along Wyndham Street and Hollywood Road and its traversing side streets.  The district also houses a number of institutions and galleries established for the purpose of promoting local art. 
Grotto Fine Art:
Founded in 2001, Grotto Fine Art is the self-proclaimed sole gallery dedicated exclusively to promoting local, Hong Kong art. The gallery has promoted numerous local artists since its inception, with these artists enjoying the privilege of having their works displayed in prestigious museum shows and collections. Grotto Fine Arts hosts 6-8 single artist exhibitions per year, as well as local and overseas art fairs. The gallery is located at 2/F, 31C-D Wyndham Street.
Hanart TZ: 
The Hanart TZ gallery has been dedicated to the exhibition and promotion of Chinese contemporary art in Hong Kong since its formation in 1983. The gallery has hosted a number of locally and internationally significant exhibitions. One famous example was its exhibition of the Stars Group's work near the end of the 1980s. The gallery is located at 401 Pedder Building, 12 Pedder Street.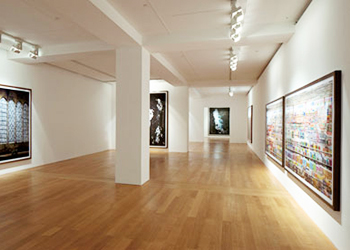 The Gagosian:
Larry Gagosian, an internationally recognized arts curator with 15 gallery exhibition spaces to his name, has built another arts haven at 7/F, Pedder Building, at 12 Pedder Street. Christened as "The Gagosian", the gallery is a large space with a history of hosting the work of internationally recognized modern and contemporary artists. 
Opera Gallery:
Founded in Paris in 1994, Opera Gallery is one of the leading dealers in modern and contemporary art from America, Europe and Asia. With offices across the globe, its founder, Gilles Dyan, established the gallery as the '1st Worldwide Network of Art Galleries'. With big name pieces in its collection, stop by at W Place, 52 Wyndham Street, for a glance at works by Renoir, Magritte, Matisse, Picasso, Warhol and many more celebrated artists from East and West.
More commonly known for streets lined with dried fish and antiques, Sheung Wan has recently become an area where lovers of the upscale and bohemian can delight in posh bars, boutiques, and art galleries. 
XXX Gallery:
Though its name will certainly raise some eyebrows, the XXX Gallery is simply a basement space near Sheung Wan themed around underground culture. In addition to art exhibitions, the space is also leased out as a performance venue for indie bands and DJ concerts. The XXX Gallery can be found at B/F, 353-363 Des Voeux Road West, Sai Wan.
Cat Street Gallery:
Cat Street Gallery, located at 222 Hollywood Road, is a gallery that aims to exhibit "the best of international contemporary and modern art by both established and emerging artists". One notable exhibit hosted by the galley was 'FETISH', a collaboration between famous French shoe designer Christian Louboutin and photographer David Lynch.
Contemporary by Angela Li:
This gallery, which finds itself situated at 248 Hollywood Road, is an arts space dedicated to exhibiting and promoting contemporary art. The gallery focuses on Chinese artists and also offers an award-winning arts consultancy service. Past projects include The Langham Place Hotel and The Langham in Hong Kong. 
---

Sai Ying Pun:
A popular foodie destination, Sai Ying Pun is also home to a few art venues. 
Above Second:
Getting its name from its former location, above Second Street, the Above Second Gallery is an art gallery that specializes in exhibiting contemporary art "influenced by illustration, graphic design, graffiti, comic books, pop culture, and street art". It goes without saying that the type of art displayed at Above Second is vastly unique. Its promotion of a rarely appreciated art form distinguishes it from other galleries, and puts Sai Ying Pun on the Hong Kong Arts map.
2P Contemporary Art:
Located at G/F 23 Po Tuck Street, 2P Contemporary Art is an independent art gallery open from Tuesdays to Saturdays. The gallery states that its primary goal is to provide contemporary artists with a strong, progressive curatorial framework and to promote both emerging and established artists. 
Outside of the central business and financial district of Hong Kong lies a myriad of areas comprised mostly of residential buildings and the odd industrial or commercial complex. While not typical areas in which arts hubs would thrive, the art world has not been immune to Hong Kong's high rentals, leading to an exodus of galleries from more mainstream districts to places in Chai Wan and To Kwa Wan where larger artworks can be displayed for a fraction of the price. 
 
Chai Wan is a residential area comprised mostly of public housing estates with notable exceptions such as Heng Fa Chuen.  The Chai Wan Mei arts festival takes place every year, where international and local artists alike showcase their work for a period of 2 days. In addition to the Chai Wan Mei, Chai Wan is the permanent home to a few well-known galleries. These galleries include 10 Chancery Lane and Platform China. 
10 Chancery Lane:
10 Chancery Lane is an organization actively dedicated to the promotion of international South East Asian artists from countries including Cambodia and Vietnam. The gallery is located in Chai Wan's industrial warehouse art district at Unit 604, Chai Wan Industrial City Phase 1, 60 Wing Tai Road, Chai Wan. 
Platform China:
A gallery originating in Beijing, Platform China has expanded its reach to Hong Kong at Unit 1, 6/F, Phase 1, Chai Wan Industrial City, 60 Wing Tai Road. The gallery was established as an institution to support and promote emerging Chinese and international artists. The gallery has a history of collaborating with internationally renowned museums, art foundations, and non-profit organizations. 
Found at Ma Tau Kok Road amidst a skyline of old dilapidated buildings, the Cattle Depot Artists' Village is a former slaughterhouse that has been repurposed into an arts hub. Most of the tenants in this village are artists that practice their craft within the village's premises. In addition to resident artists, two organizations that have set up shop at the village are 1ASpace and Videotage. Both organizations have long hosted exhibitions displaying Hong Kong contemporary art. The village has also been involved in promoting art in the region via the hosting of multiple art activities, book fairs, and art festivals. The Cattle Depot Artists' Village is an important landmark on the Hong Kong art map despite its relative remote location. 
---

Art Fairs:
In addition to the multitude of galleries, Hong Kong is host to a series of annual art fairs and conventions, ensuring that new artistic life from all over the world continuously flows through the city. This includes the likes of Art Basel, the Asia Contemporary Art Fair, the Asia Hotel Art Fair, and the Affordable Art Fair. 
We hope that this article has added a few new places for you to visit and provides you with a helpful introduction to Hong Kong's art community if not also a new painting to adorn the walls of your Hong Kong apartment!