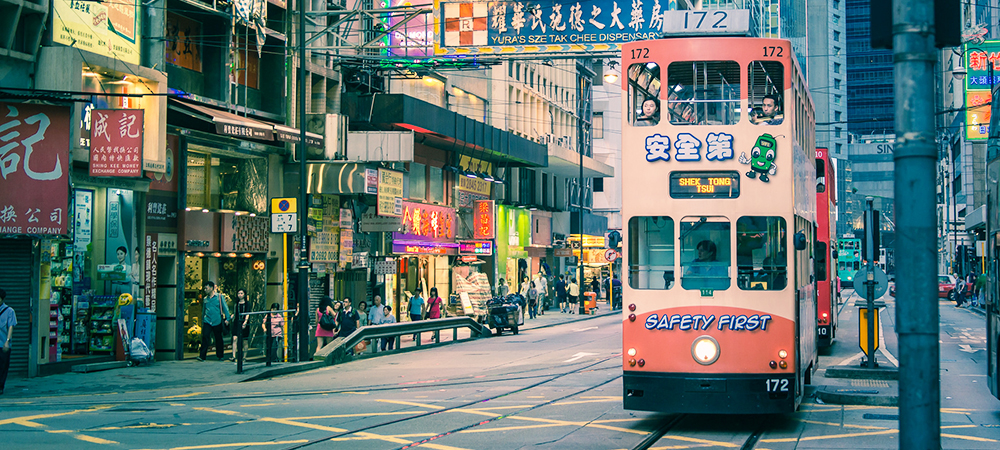 HK Trams, or "Ding Dings" are a unique form of transport and moving monuments that have been traversing Hong Kong Island for over 100 years. It is namely the best way to explore the city for both tourists and locals. Hop onto one of them and find your way around with the most affordable and convenient transport!  
Spanning across the northern part of Hong Kong Island from Shau Kei Wan in the East to Kennedy Town at the West end, the double-deckers run every day on a regular basis from early morning to midnight with a tram fare of HKD$2.30 per adult (HKD$1.20 and HKD$1.10 for children and senior citizens respectively) regardless of the length of the journey. Often referred to as the 'Ding Ding' (叮叮) by locals due to the unique sound they chime when they move along, many Hongkongers enjoy riding this convenient, budget mode of transportation to some of the busiest neighbourhoods on and off work. 
The tram is also a popular sightseeing attraction. They are very comfortable for short distance journeys, where passengers can enjoy a fantastic moving theatre of HK scenery and street life. There are a total of seven routes, rumbling through destinations including renowned landmarks, shopping districts, cultural hotspots and the Happy Valley Racecourse. 
For first-time riders, getting on a tram can be intimidating as only some of them have an on board passenger information system installed. You need to find out where the tram is heading first by looking at the front or rear destination plates before boarding. After deciding which direction you are heading (eastbound or westbound), go to the rear door and board through the narrow turnstiles - passengers don't pay until they exit through the front door. As the tram slowly rolls back into action, grab a seat on the upper deck and take in the view. Trams stop at every station, simply walk to the front door to exit and pay your fare next to the driver's seat, either by cash or by Octopus Card.  
Here are some other tips for an enjoyable tram journey:
Avoid riding at rush hours (8-10AM and 6-7PM) as trams will be extremely packed and your journey might be delayed due to traffic conditions. 
Try to get on at one of the main stations to ensure a great front row seat on the upper deck.
An Octopus Card can save you from looking through your coin bag to get the correct change. Exact change is required so make sure you have this before boarding.
If you are unsure where to go, check out the recommended tram journeys here, or simply join the TramOramic Tour organized by Hong Kong Tramways for a 1-hour audio guided tour on the heritage tram and unlimited rides for 2 days.
Happy travels and do watch out for all of those Pokemon Go players!